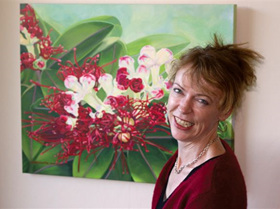 Kerry Fenton-Johns is a landscape, plant life and still life artist living in Dunedin, New Zealand.

Kerry is fascinated with the contrast of light and dark and natures use of subtle tones, the softness and harshness of light vying for attention with shadows that taunt the clouds that race by.

When painting landscapes, she is drawn in by the background of what lies beyond. Images of what might have gone before shape the intricate detail of what is tangible and glimpsed in a moment, but not easily forgotten.

Kerry painted the Koru that is reproduced on the tile on the left.
Posted: Monday 28 February 2022